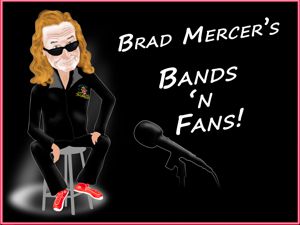 Brad Mercer's Bands 'N' Fans
Promoting new musical talent since 1987
Yep, we're on Facebook

WHERE TO HEAR US:
Brad's Upcoming Gigs:
(See Brad Performing Live)
There are no gigs on the calendar,
at this time.
Brad's Blog
The Country Showdown Rocked!!
I was so impressed with the talent at the 33rd Annual Country Showdown Competition Sunday July 27th at Fantasy Springs Resort Casino! Congratulations to Ry Bradley who won the first round. He's now off to compete in the State Finals at Knotts Berry Farm September 6th and of course I will be there to cover it.

Those of you who didn't get to hear the show on Saturday, it will be re-broadcasted this Saturday from 4-6PM (PST) on KIX HOT COUNTRY 96.3 and 92.1 - and as always can be heard on BradMercersBNF.com - BestCountryRadio.com and 1MusicNetwork.com. I'll see ya on the radio!

LINK: RY BRADLEY
I love hearing from you!
Please send me your comments or feedback on this blog post
Click here
--